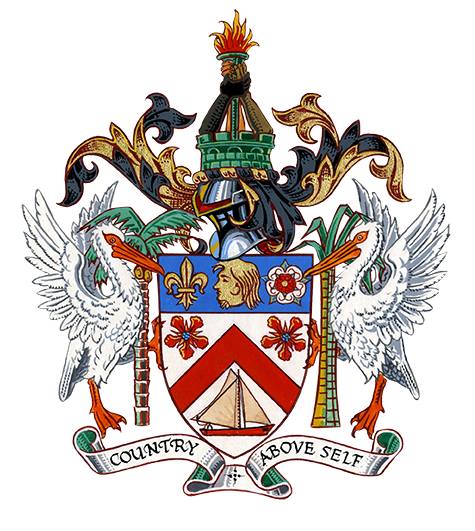 Women throughout the Federation will be the beneficiaries of a new Project being sponsored by the Republic of China on Taiwan, through its International Cooperation and Development Fund (Taiwan ICDF). The project, entitled Technical Assistance for Women's Employment, Entrepreneurship and Financial Inclusion in St. Kitts-Nevis, will provide technical and financial support to unemployed women and female entrepreneurs struggling in the COVID-19 environment.
The formal signing ceremony for the Project was held on Tuesday, October 12th at the Taiwan Technical Mission Office, Needsmust, and was graced with the presence of the Ambassador of the Republic of China on Taiwan, the Honourable Michael Chau-Horng Lin, as well as the Honourable Eugene Hamilton, Minister of Social Development & Gender Affairs. In giving an overview of the Project, Ambassador Chau-Horng Lin informed that the project was intended to help relieve the pressures of the pandemic on one of society's most vulnerable groups – women. "This programme will not only teach women to fish, but will provide them with a fishing net", he said.
The Ambassador noted that the initiative was a regional one that would benefit nine Caribbean countries, and would offer several levels of support at different stages– including vocational training to females over sixteen (16) wishing to start their own business, financial assistance to struggling businesses, counselling for established female-centric enterprises to strengthen their operational capacity, and training for financial institutions on inclusive programming.
In his remarks, Minister Hamilton lauded the long relationship with Taiwan that led to the Women's Empowerment Project coming into fruition, and asserted that the Federation indeed "had a friend – in the Republic of China on Taiwan".
"Today marks the signing of an agreement between our two countries for the execution of a programme of assistance and economic empowerment of women as a post pandemic measure. This project will provide technical assistance and financial assistance to women, including women entrepreneurs," he announced, noting that the project was timely, as women were the heads of many households in the Federation and continued to be severely impacted by the pandemic despite the stimulus assistance provided by the Government, and that training and financial support would help them to weather the pandemic's economic storms.
The signing of the Implementing arrangement took place in view of several attendees, including officers of the Ministry of Social Development & Gender Affairs and the Trade and Small Business Development Sectors in St. Kitts, as well as representatives of the Taiwanese Embassy.
Women across the Federation are urged to participate in this US $2.1 million programme, which will run until December 2022. Further information on the Project, including registration details, will be announced shortly.
End of Release October 15th, 2021